The Communication and Information network Association of Japan (CIAJ) announces the telecommunication equipment production and trade figures for FY2021 (April-March) as follows.
I. Summary
In FY2021, telecom market demand for 5G communications infrastructure remained firm. Meanwhile, demand began to recover for business-use equipment such as office-use cordless handsets, intercoms and PBX, for which the industries sought to win orders and undertake installation through initiatives that mitigate the impact of COVID-19. However, demand from domestic manufacturers for almost all equipment stalled due to supply restrictions caused by parts shortages.
II. Domestic Market Trends
In FY2021, the total value of the domestic market (value of domestic production – value of exports + value of imports; excluding parts) stood at 3,249.0 billion yen, up 7.7% year over year. The major factor for this was an increase in imports of mobile phones, which account for the majority of the value of imports, especially smartphones from overseas manufacturers.

III. Domestic Production
The total value of domestic production in FY2021 was 466.3 billion yen, a decrease of 5.1% over FY2020.
Domestic production decreased for the first time in three years, mainly due to a decline in production resulting from the parts supply problem and a backlash to special demand for infrastructure investment for the nationwide development of optical cable networks in the previous fiscal year. (Since mobile phones were excluded from the surveyed categories in 4Q, the graph includes the estimated production value.)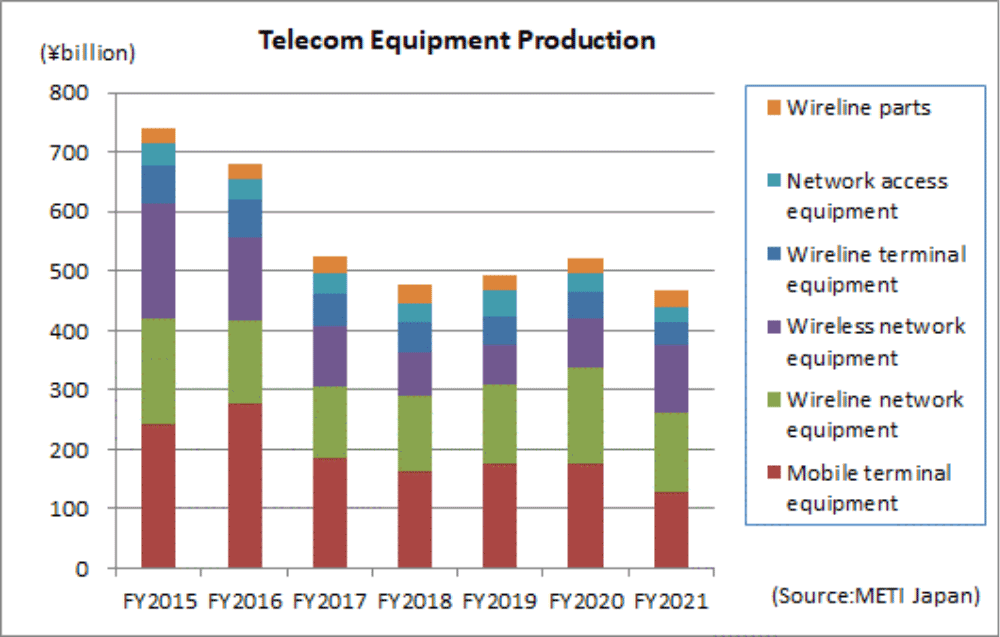 IV. Exports
The total figure for exports in FY2021 was 332.5 billion yen, rising 18.4% over FY2020 for the first increase in four years. Exports of base stations to the U.S. increased. Demand for parts for smartphone production for emerging Asian countries was recovering, but exports to China were declining. As a result, the ratio of parts to China as a whole decreased.
In contrast, the ratio of parts to the U.S. increased.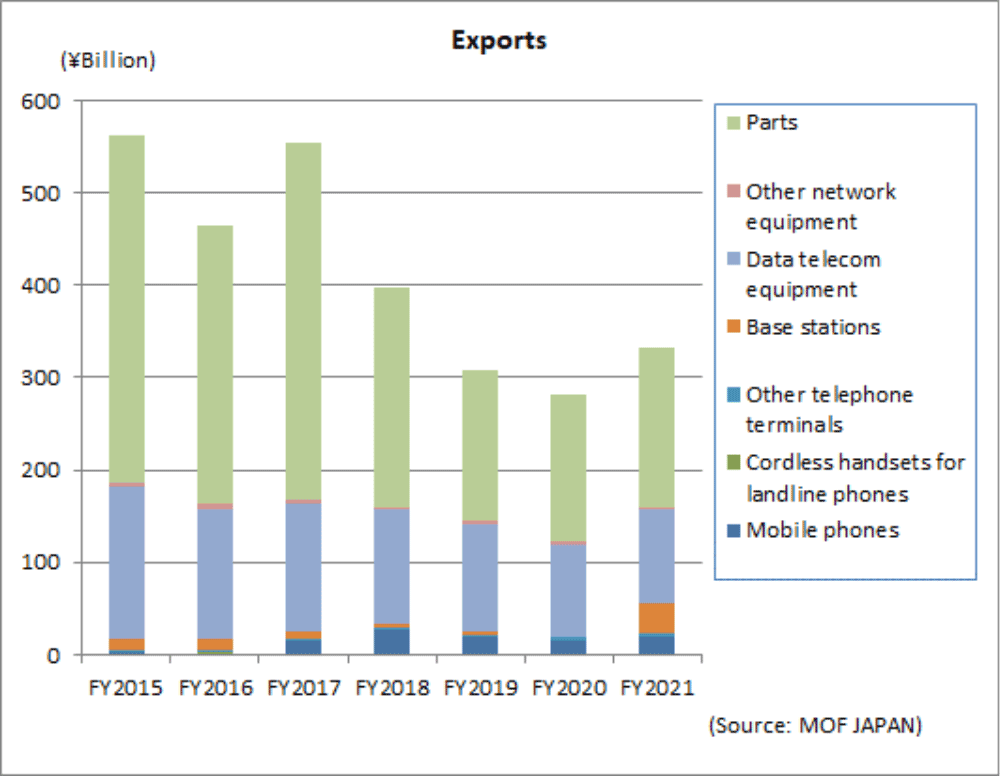 V. Imports
The total figure for imports in FY2021 was 3,187.7 billion yen, an increase of 11.3% over FY2020. In line with the recovery in demand for smartphones, imports of smartphones produced overseas, especially those made by foreign manufacturers, increased. Imports of base stations decreased as domestic demand for base stations was sluggish.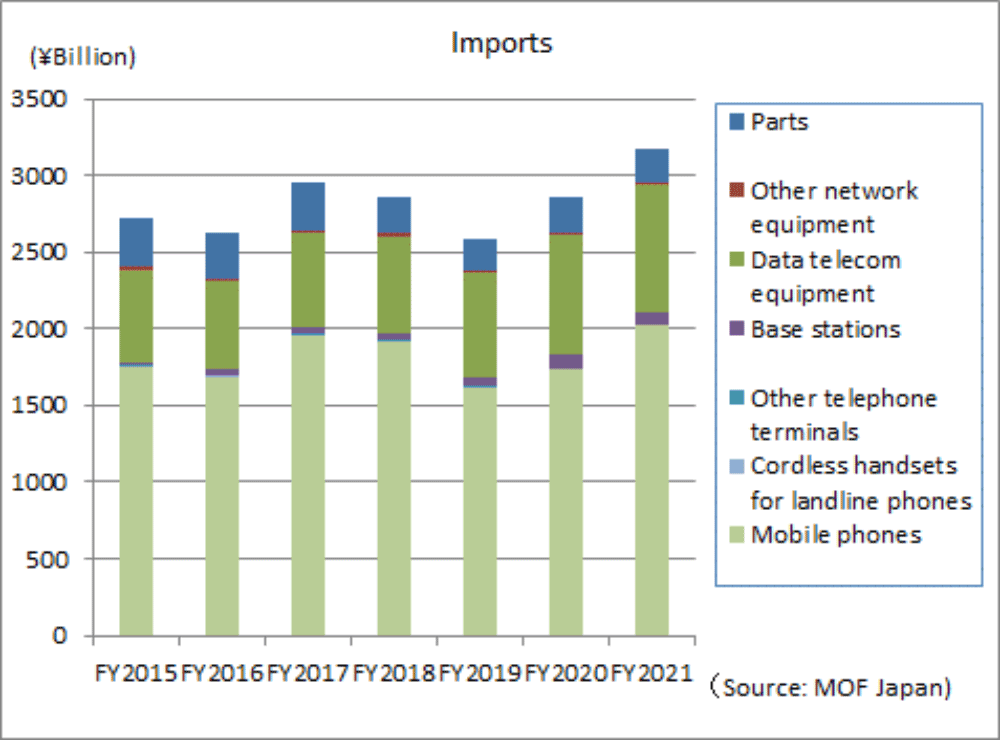 VI. Orders Received and Shipped by Japan-based CIAJ Member Companies
Total orders received and shipped by Japan-based CIAJ member companies in FY2021 amounted to 1,386.8 billion yen, down 3.4% from FY2020.
Of which the total value of domestic shipments totaled 1,116.2 billion yen, a decrease of 5.5% over the same quarter of the previous year) and exports were 270.5 billion yen, an increase of 6.3% over the same quarter of the previous year).
Domestic shipments of terminal equipment decreased slightly, while those of network equipment declined significantly. Exports of wireless network equipment increased.