The Communications and Information network Association of Japan (CIAJ), a general incorporated association, released its "Mid-Term Demand Forecast for Telecommunication Equipment," covering FY2019 through FY2024. CIAJ has released this forecast since 1960 and the 2019 edition marks its 60th release. To commemorate this milestone, CIAJ released a special edition focusing on the 5th generation mobile communication system (5G). The demand forecast looks at new demand for telecom equipment and network equipment related to 5G as well as trends in new technology driven services.
I. Outline
Looking at the Japanese economy in FY2018, foreign demand was impacted by the overall slowdown of global economies, especially in China, and exports of IT related equipment to Asia indicated a decline from the beginning of FY2018. On the other hand, the shortage of workers and aging equipment led to an increase in capital investment in facilities. Together with healthy corporate earnings and rising incomes and consumer spending, they led to healthy domestic demand figures. On a more granular level, the telecom equipment market was helped by the robust domestic demand for wireline terminal equipment and wireline network equipment also showed signs of positive growth in order to accommodate growth in network data traffic. However, the large bulk of this demand (in yen value) is dependent on mobile phone and radio infrastructure equipment, which is dropping as the society makes the switch to 5G. Combined with the global economic slowdown and most categories indicating declines in export figures, the demand for telecom equipment in FY2018 was 3.451 trillion yen (-5.1% year-over-year growth over FY2017).
The Japanese economy in FY2019 is showing a small increase of real GDP for July to September which is expected to be 0.2% (preliminary figures announced Nov. 14, 2019). Demand growth in infrastructure construction, investments to streamline and improved energy efficiency are forecast, but consumer spending is expected to remain low, leading to a gradual slowdown in domestic demand. On the other hand, semi-conductors and 5G-related exports are rebounding, and foreign demand for ICT is forecast to recover. The telecom equipment market in particular, can expect growth in wireline network equipment with the launch of 5G, but demand for mobile phones continues to decline with the revision in the Telecommunications Business Act and the rise in consumption tax. Together with slow investments in radio infrastructure equipment, total demand for FY2019 is forecast to hit bottom, while remaining low at 3.384 trillion yen (-1.9% year-over-year growth).
For FY2020 onwards, the ICT industry and advances in the technology is expected to contribute to Japan's economic growth and provide solutions to social challenges with the realization of Society 5.0 and more specifically new 5G features, including vehicles being increasingly equipped with electronic devices as the industry moves towards autonomous cars and the increasing acceptance of robots and artificial intelligence (AI) to augment the global shortage of labor. The total market value is expected to grow gradually, forecast to reach 3.793 trillion yen in FY2024, or an increase of 9.9% over the FY2018 figure with new demand for communication terminal equipment and communication network equipment, with both securing their position as part of the social infrastructure.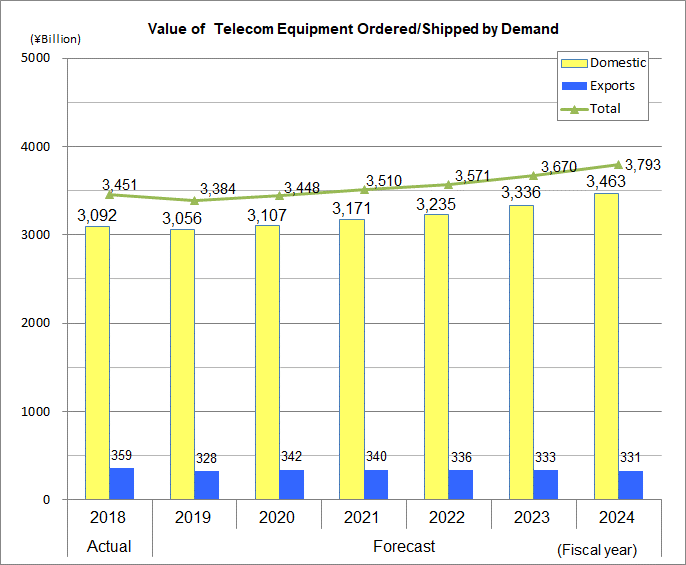 II. Special section on 5G
Pre-commercial 5G service was launched in Japan from September, 2019, with commercial launch to follow shortly afterwards. In addition to the enhancement and expansion of the network environment, businesses are seeking new innovations and business opportunities. In the special section on 5G, CIAJ analyzed its potential and how it is changing the telecom market by focusing on its features and scope of impact across industries.
(1) Features of 5G and its progress in Japan
There are 3 outstanding features of 5G (high speed & high capacity, high-density connections, low latency) which meet the unique needs of diverse industries – such as manufacturing, logistics, emergency/disaster prevention, transportation, and healthcare – and create new use cases. For example, high speed, large volume capacity will allow transmission of 3D image and xR services. Simultaneous connectivity of many devices will play a role in smart cities and smart homes, and low latency will be essential in factory automation and autonomous driving.
As of the fall of 2019, a global standard concerning 5G high speed/ high capacity had been determined, and commercial service based on non-standalone (NSA) 5G base stations using 4G-based controls had begun. However, standardization concerning high-density connections and low latency is still in the works and furthermore, they require all radio network facilities to use 5G based standalone (SA) base stations. Therefore, full-spec commercial services with multiple 5G-unique features, including high-density connections and low latency is still several years down the road.
The four telecom carriers were planning to invest 1.7 trillion yen to put about 70,000 5G base stations in place by the end of FY2024 in accordance to the operational plans for the placement of specified frequency base stations of April 2019. However, capital investment in hardware is expected to be of smaller scale than in 4G, due in part because software upgrades to existing 4G base stations would be sufficient (software-defined networks: SDNs), and virtualization of the overall radio network using run-of-the-mill hardware can realize low-priced small networks. NTT Docomo is aggressively placing SDN-compatible 4G base stations, while Rakuten Mobile is pursuing completely virtualized technologies, leading to the CIAJ projection that 5G base station investments will be less than for 4G.
(2) 5G market trends
In the consumer market, the focus is on smart homes and autonomous driving. In smart homes, the use of IoT (Internet of things) to monitor what is happening inside as well as outside the home and using AI to decipher behavioral patterns to support everyday life would require 5G network infrastructure to connect various devices and appliances. Autonomous driving would require an always-connected state and transactions of massive volumes of data, including from numerous on-board sensors, information on other vehicles operating within close vicinity, road/traffic information stored in servers and more. This would all take advantage of the high speed, high capacity and low latency characteristics of 5G.
In the enterprise market, much of the attention is on local 5G. Catering to regional and specific industry needs, local businesses or municipal governments have the flexibility of building networks within their properties or buildings. CIAJ forecasts market growth based on this potential. Advances in local 5G could not only replace existing carrier or private communication networks in fields such as emergency/disaster prevention systems, but create new businesses, such as smart factories, remote operations (heavy equipment, drones, robots, etc.) and security/surveillance. A further possibility is existing enterprise equipment, like PBXs, becoming local 5G compatible.
In the infrastructure and Internet markets, the focus is on equipment for that facilitates the move towards open and virtualized mobile networks. Domestic manufacturers are expected to see market growth with the implementation of open network technologies, such as O-RAN (Open Radio Access Network) on existing 5G base station networks and the laying down of 5G backhaul, which takes advantage of digital transmission equipment and fixed radio equipment (historically strong areas for domestic manufacturers), and using traffic lights as 5G base stations.
III. 2019 Forecast
The total telecommunication equipment market figure for FY2019 is forecast at approximately 3.384 trillion yen (-1.9% year-over-year growth), with the domestic market accounting for 3.056 trillion yen (-1.1% year-over-year growth), and exports accounting for 327.7 billion yen (-8.8% year-over-year growth).
Major Equipment Categories Expected to Increase Over FY2018 (in descending order)
FY2019
(expected)
(billion yen)
Increase over
FY2018
(billion yen)
Growth rate
Digital transmission equipment
202.2
73.2
56.8%
Fixed communication equipment
159.0
26.8
20.3%
Base station equipment
221.2
21.7
10.9%
LAN switches
176.6
4.3
2.5%
Optical access equipment
20.6
0.8
4.0%
(1) Consumer equipment total: 1.881 trillion yen (-7.1% year-over-year growth)
The replacement cycle of mobile terminals continues to become longer along with decreasing demand, impacted by such factors as the revision of the Telecommunication Business Act and increase in consumer tax rate.
Niche demand among older adults for cordless phones and personal facsimiles is expected as a measure to deal with unwanted telemarketing calls or calls from scam artists, but it will not be enough to reverse the overall downward trend.
(2) Enterprise equipment total: 445.2 billion yen (-9.0% year-over-year growth)
Replacements are central to demand for key telephones, PBXs and office-use cordless phones. Despite the construction rush to build accommodations for inbound tourists and facilities for older adults, the total domestic demand is forecast to show a gradual decline.
Overseas demand takes up a large share for office-use facsimiles (including multi-functioning facsimiles) and with the slowing down of overseas economies expected to continue, it will have a significant impact on exports.
(3) Infrastructure equipment total: 583.7 billion yen (+26.0% year-over-year growth)
Increased placement of base stations in preparation of 5G commercial services, as well as demand for digital transmission equipment and fixed communication equipment for their use as 5G small cell back haul systems.
Demand for fixed radio equipment as part of disaster/emergency systems and BCP measures is projected.
(4) Internet equipment total: 288.5 billion yen (+1.6% year-over-year growth)
Healthy replacement demand is projected for routers, LAN switches and optical access equipment, which are integral to 5G/IoT and cloud services, and is expected to result in a slight overall growth for the entire category.
(5) Equipment/parts categories not included above: 185.8 billion yen (-1.9% year-over-year growth)
IV. Midterm Projection
The FY2024 total figure is projected at 3.793 trillion yen (+9.9% growth over FY2018), with the domestic market accounting for 3.463 trillion yen (+12.0% growth over FY2018) and exports accounting for 330.6 billion yen (-8.0% growth over FY2018).
Major Equipment Categories Expected to Increase Over FY2018 (in descending order)
FY2024
(expected)
(billion yen)
Increase over
FY2018
(billion yen)
Growth rate
Mobile communication terminals
(public network use)
2178.2
199.1
10.1%
Base station equipment
329.8
130.2
65.3%
Fixed communications equipment
179.7
47.4
35.9%
Digital transmission equipment
172.9
44.0
34.1%
LAN switches
188.0
15.7
9.1%
Optical access equipment
21.5
1.8
8.9%
(1) Consumer equipment total 2.213 trillion yen (+9.3% over FY2018)
The global mobile phone market (includes smartphones) sales revenue in FY2023 is projected at 438.0 billion U.S. dollars (CAGR 4.7% over FY2018) with the launch of commercial 5G services. However, as 5G handsets overtakes 4G phones and the 5G handset market reaches maturity, demand is expected to diminish from FY2022 (Diagram 1).
The domestic demand for mobile communication terminals is forecast to show gradual growth as carriers implement strategies to promote 5G commercial services and new contents appear on the market.
Although the development of new technologies geared to accommodate market needs will sustain existing users, overall demand for cordless phones and personal facsimiles is forecast to continue declining with fewer use cases and more consumers opting not to own wireline phones.
Official two-way radios, which is growing as disaster prevention/emergency measures are strengthened, and intercoms, which increase along with implementation of security measures, are included in the "Other equipment" category.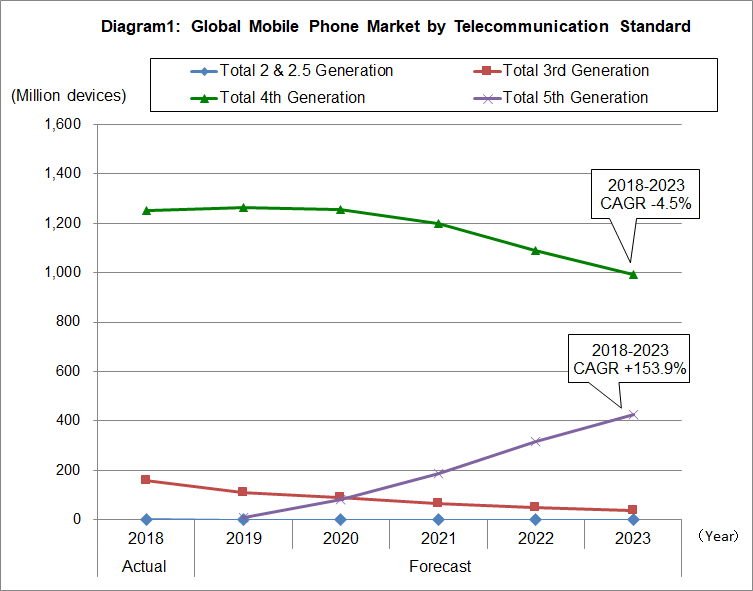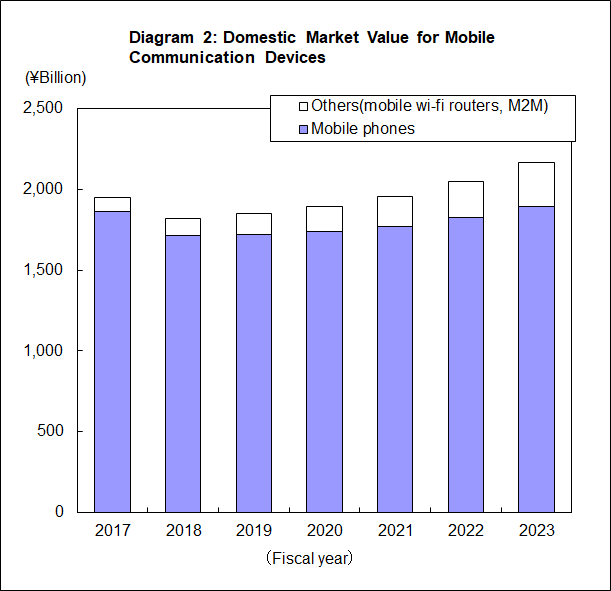 (2) Enterprise equipment total: 427.8 billion yen (-12.6% over FY2018)
In key telephones, PBXs and office-use cordless phones, the shift to large capacity and software-defined systems, migration to alternative services, such as the cloud and FMC will all play a part in the continuing decline of the market.
Despite steady replacement demand, the domestic market for office-use facsimiles will continue to decline slowly, as office space efficiency is sought, leading to fewer devices per office, as well as potential trade conflicts impacting exports and fierce price wars with foreign brands.
(3) Infrastructure equipment total: 683.9 billion yen (+47.7% over FY2018)
While the launch of commercial 5G services will lead to a spike in demand for base stations and terrestrial fixed communication devices to be used for back haul systems, demand for digital transmission equipment for wireline networks to accommodate the surge in network traffic is expected to reach the end of its implementation cycle.
Public sector demand for satellite fixed communication equipment will remain steady with planned satellite launches.
Capital investments in central office switching systems has ended and is in the maintenance/parts replacement phase, but from FY2020 onwards, gradual rise in investment in IP-conversion devices for subscriber switching equipment is expected.
(4) Internet equipment total: 299.1 billion yen (+5.4% over FY2018)
Growth in demand for routers from global carriers is expected as they switch to high-speed versions to handle the surge in traffic and 5G needs. On the other hand, the market for LAN switches will decline with virtualization.
While demand for routers targeting enterprise-use is forecast to grow among emerging markets, its commoditization will push prices down and overall market value will remain flat. Increase in PoE use and cloud services will stimulate demand for high-speed interface LAN switches for data centers.
Large investments are not expected in the domestic carrier and enterprise router market,. Demand will be concentrated in upgrades to take advantage of high-speed/large capacity and advanced features, such as quality control and security. However, projected decline in unit prices resulted in the forecast of a slight drop in overall market value.
In the domestic carrier and enterprise LAN switch market, the embracing of IoT/M2M technologies will result in massive increases in the number of devices connected to the network, meaning a surge in network traffic, and investments will be seen in carrier facilities and data centers. Commercial 5G services will also translate into additional facilities and replacement demand, so that the overall value of the market is forecast to increase.
Demand for high-speed fixed lines (10 Gbps optical services, etc.), mobile data offloading and spread of CATV optical broadcasting services are expected to influence the market for optical access equipment. However, the drop in unit price per port and virtualization technologies negatively impacting demand for dedicated equipment (routers and LAN switches) will most likely reign in growth of the total market value.
(5) Equipment/parts categories not included above: 169.8 billion yen (-10.4% year-over-year growth)
Forecasting methodology
Domestic market forecasts are based on statistics compiled by CIAJ and interviews with CIAJ members, with the cooperation of InfoCom Research, Incorporated, for areas not covered by CIAJ.
Global ICT market forecasts and demand trends refer to and utilize data and analysis provided by a global research company IHS Markit with the cooperation of InfoCom Research, Incorporated.
Please click here to purchase a copy of the CIAJ Mid-Term Demand Forecast for Telecommunication Equipment (2019 – 2024) (6,000 yen + tax for CIAJ members, 19,000 yen + tax for non-CIAJ members). The CIAJ Mid-Term Demand Forecast for Telecommunication Equipment is available in Japanese only.