Demonstrating how IoT will transform our homes, our towns, and our communities
CEATEC JAPAN 2016, to be held from October 4 (Tue) to October 7 (Fri) at Makuhari Messe (Mihama, Chiba-city), will also feature a sponsors' special exhibit called IoT Town. This exhibit, located at Booth 4P54 in the Sponsors' Special Exhibit Area in Hall 4, is organized by the three organizations behind CEATEC: the Communications and Information Network Association of Japan (CIAJ), the Japan Electronics and Information Technology Industries Association (JEITA), and the Computer Software Association of Japan (CSAJ). Today details of IoT Town have been released.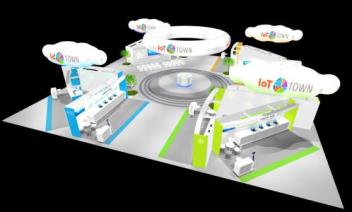 IoT Town will include exhibits by enterprises involved with IT and electronics. It will bring together ideas of how the future will change with IoT as well as concepts that point to new business models. Visitors will experience the town of the future, filled with potential IoT applications in a wide variety of fields.
IoT Town will be divided into three areas: Home, Town, and Community, with 10 booths. Here will be displayed robots, virtual stores and sports wearables among others. There will also be an open stage for the exhibitors to make presentations on such topics as advanced initiatives and future services involving IoT.
Additionally, IoT Town will present possible future services in storyboard form. These derive from an ideathon on the topics of Body Extension and IoT Technologies held on 9 Sept. and involving the exhibitors and various specialists with diverse backgrounds – engineers, designers, creators, etc. IoT Town visitors will be able to view the fruit of this brainstorming event that explored new possibilities for IoT technologies unconfined by traditional organizational thinking.
■ IoT Town Exhibitors ■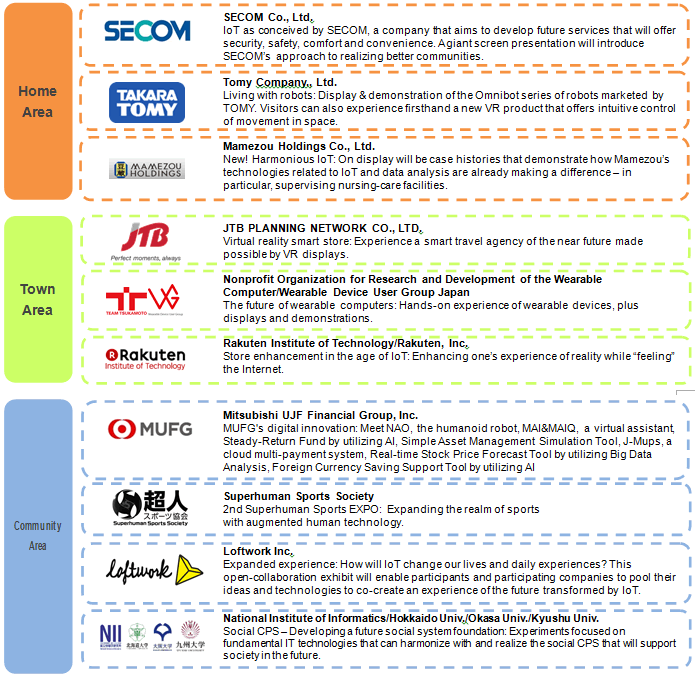 IoT Town is a sponsors' special exhibit that symbolizes the concept of the new CEATEC JAPAN. It brings together the services and products that employ IoT, and displays the technologies that realize IoT and futuristic applications. It is thus a showcase for visitors to experience the potential and possibilities of IoT. At this year's CEATEC JAPAN business creation is a priority and business-matching events are scheduled, but IoT Town will also provide important opportunities to discover ideas that lead to new business models and to encounter future business partners.
Announcement:
On October 3 (Mon), the day before CEATEC JAPAN 2016 opens, a Media Convention will be held from 2pm to 5pm at the venue. Representatives of the companies and organizations participating in IoT Town will also be present at this event, so it will be a good opportunity to interview them. Details of the Media Convention can be found on the official CEATEC JAPAN website.
CEATEC Official Website (Press/media related): http://www.ceatec.com/ja/press/
■CEATEC JAPAN 2016

◇Duration: October 4 (Tue) – 7 (Fri), 2016; 10:00 a.m. – 5:00 p.m.
◇Venue: Makuhari Messe 2-1 Nakase, Mihama-ku, Chiba, Japan
◇Theme: Connecting Society, Creating the Future
◇Admission: All visitors are required to register
Visitor registering at the Gate: General admission JPY1,000, Students JPY500
(Groups of 20 or more students and children under 12 years of age
are admitted free-of-charge.)
Online pre-registration / Invitational registration at the gate: Free admission
Sponsor: CEATEC JAPAN Executive Board
Communications and Information network Association of Japan (CIAJ)
Japan Electronics and Information Technology Industries Association (JEITA)
Computer Software Association of Japan (CSAJ)
Please address inquiries relating to this press release to:
JEITA (Japan Electronics & Information Technology Industries Association)
Ms. Tomoko Kawamura, Communication Office
Ote Center Bldg. 5F, 1-1-3 Otemachi, Chiyoda-ku, Tokyo 100-0004
Tel: +81-3-5218-1053  E-mail: comm1053@jeita.or.jp
URL: http://www.ceatec.com