The Telecommunications Carrier Association (TCA) and CIAJ are working to improve the efficient use of materials in mobile phones and PHS devices through the "Mobile Recycling Network (MRN)"
As part of this endeavor, TCA, with the cooperation of mobile operators providing mobile phone and PHS services, created MRN in April, 2001, which voluntarily collects used mobile and PHS terminals, battery chargers, and batteries, mainly through the approximately 10,000 retail outlets throughout Japan, regardless of carrier or manufacturer. As of the end of 2014, MRN had collected over 110 million devices.
Meanwhile, CIAJ established the "Environmental Assessment Guideline for Mobile and PHS Terminals," in March, 2001 as a guideline for manufacturers to assess their products and promote the 3R activities (reduce, re-use, and recycle).
The actual figures for recycling in FY2014 are as follows.
1. Figures for Recycling and Re-Use in FY2014
(1) Figures for Recycling
The number of mobile and PHS terminals collected in FY2014 decreased from the FY2013 figure by 490,000 terminals (-7.0%). With the popularity of smartphones, handsets were increasingly equipped with multiple advanced features and consumers began holding on to older models to be used for non-communication purposes even after switching to another model. In addition, the market for businesses dealing in second hand devices (re-use) has taken root. These trends have led to a continued decline in collected devices.
FY2014
FY2013
FY2012
FY2011
No.
collected
(1,000 terminals)
Collected
tonnage(t)
No.
collected
(1,000 terminals)
Collected
tonnage(t)
No.
collected
(1,000 terminals)
Collected
tonnage(t)
No.
collected
(1,000 terminals)
Collected
tonnage(t)
Mobile/PHS
terminals
6,191
604
6,678
652
6,606
639
6,965
666
Batteries
9,938
203
9,840
205
8,904
176
9,739
192
Battery
chargers
3,207
217
3,201
226
3,630
260
3,186
241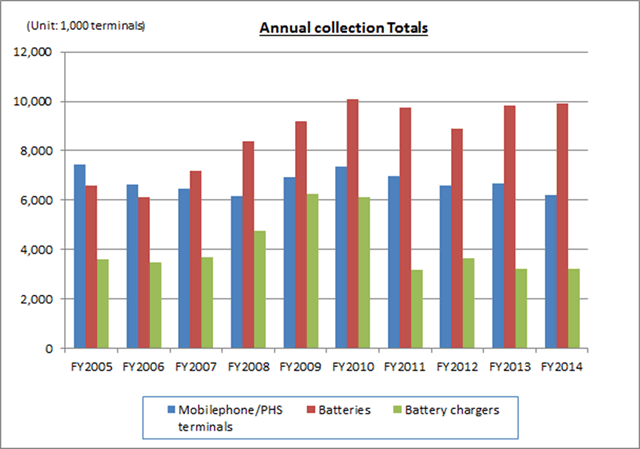 (2) Figures in Re-Use
Metals used in mobile and PHS terminals include steel, aluminum, magnesium, gold, silver and copper. Gold, silver, copper and palladium are refined and re-used. The slug resulting from this refining process is used for road beds and shore-line tetrapods.
Non-metallic material (plastic, glass, etc.) are also processed for recycling. Plastics are dissolved at low temperatures into resins to be made into hangers, plastic containers, toys and other every-day goods.
(3) Voluntary Numeric Targets
Since FY2009, MRN has set several numeric targets in order to further promote recycling activities. Last year's achievements per target are listed below.
| Target Item | Target | Actual | Previous FY(reference) |
| --- | --- | --- | --- |
| (1) Awareness of recycling activities | 70% (*1) | 54.2% | 55.4% |
| (2) Material recycling rate | 70% (*2) | 71.7% | 70.5% |
| (3) Collection rate | 30% (*3) | 14.6% | 21.2% |
(*1) Assessed from a survey of user awareness and behavior.
(*2) Material recycling rate of handsets for MRN (the recycling rate of metals and other materials extracted from collected terminals: excludes heat recovered materials from FY2012).
(*3) Collection rate for all carriers.
Collection rate = "total number of devices of all carriers collected at licensed shops and other locations" / ("total number of subscribers who changed models at licensed shops and other locations" + "total number of mobile phone contract terminations")
The MRN collection rate continued to decline and fell below the target. This likely reflects the rapid penetration of smartphones with numerous advanced features and we can assume that when upgrading handsets or switching to a different carrier, more and more consumers continue using the older smartphones for their ability to access wireless LAN networks even after the termination of their carrier contracts. Consumers are also increasingly provided with a wider choice of selling their devices for re-use, making it harder to persuade them to recycle their devices at the time of switching or terminating their contract with service providers.
2. Survey on User Awareness and Behavior
An annual survey of two thousand mobile phone and PHS users was conducted to gain a better understanding of recycling perceptions and behavior.
(1) Smartphone users accounted for 53% in last year's survey, but grew to account for 55% in this year's survey.
(2) The survey shows that among those who changed handset models or terminated their contract in the past year, 15% returned their handsets to the retail shop.
The figure for those who had returned their handsets includes people who asked the service provider shop to dispose of their terminal, those who sold their old devices, and those who gave their terminals to an acquaintance.
(3) People who returned their handsets to a store specializing in mobile handsets was the largest group at 61%. Smartphones had the highest rate of being sold or traded in, and traditional feature phones had the highest rate of being handed over for recycling.
(4) Among the respondents who have a handset(s) used for a purpose other than as a communication device, the most popular use (multiple answers possible) was "kept as part of a collection or for sentimental reasons (emotional attachment to the handset)" (25%), followed by "kept to hold on to data (photo, e-mail, contents, etc.)" (24%), and "no specific reason, but want to keep the device" (21%). The response was not very different from the previous year's survey.
On the other hand, 14% of respondents chose "worried about disclosing personal information" as a reason for holding on to their handsets, even after they no longer used them. 12% indicated that the reason for holding on was that they "did not know how to dispose of their handsets." More efforts to promote MRN, especially information on such measures as data transfer, proper erasure of personal data and assistance at MRN participating retailers are still necessary.
(5) Among the respondents who have a handset(s) used for no purpose, 57% stated that they would definitely like to or might be willing to dispose the handset, if it is a feature phone and over 44% if it is a smartphone. 24% stated they definitely do not want to or rather prefer not to dispose the handset, if it is a feature phone and a much greater 36% if it is a smartphone. This indicates that there is greater reluctance to dispose of the handset if it is a smartphone and thus, a greater likelihood of keeping the device compared to feature phones. It will be necessary to continue monitoring user trends to determine if this phenomenon will continue, or if it will plateau after smartphones reach a certain saturation point.
(6) Only 15% of respondents said they had seen notices from local governments concerning how to dispose of no-longer needed mobile devices. There will be greater need to gain the cooperation from local authorities concerning the law on the recycling of small home appliances implemented on April, 2013. Of the respondents who had seen notices, 57% said they got information through a "newsletter issued by the local government," while others said they saw the information in a "waste disposal calendar" or "waste disposal manual" distributed by the local government.
(7) Awareness of the recycling of mobile phones and PHS equipment, including the logo, is decreasing, indicating the need for further efforts.
Awareness of MRN: FY2014 (55%) FY2015 (54%)
Recognition of logo: FY2014 (17%) FY2015 (15%)
(8) Upon showing documents on the significance of recycling handsets and introducing MRN activities, 64% of all respondents said they would definitely like to or might be willing to cooperate in collection for recycling efforts. 61% of smartphone users gave such a response, indicating the future challenge in how to link such sentiment to actual MRN collection behavior among users.
3.Measures to Improve Recycling
(1) Take steps to increase awareness
As a way to increase awareness of recycling activities by MRN, efforts will continue to provide information on websites, catalogs, manuals and billing material. Emphasis on activities such as posters introducing MRN at stores specializing in mobile handsets, stickers, pamphlets/leaflets, coverage by the press as well as working with local authorities who are responsible for trash collection will continue. In order to promote collection, we will strengthen efforts to provide guidance at specialty stores when users change models or terminate their contracts.
(2) Increasing the opportunities for collection
MRN will work closely with the "Cellular Phone Recycling Promotion Council (tentative translation)" organized by the Ministry of Internal Affairs and Communications (MIC) and composed of large-volume retailers, ICT manufacturers, telecom carriers and relevant organizations, to encourage easier consumer access to recycling, conduct appropriate protection of personal information, increase collection opportunities and raise awareness.
(3) Take measures to increase collection
To increase collection rates among users who have sentimental attachments to information and data (photos, e-mail records, etc.) on their used handsets, increased support at retailers together with more information on availability of data transfer and improving the ease of backing up or transferring data stored on old models to new models will be made.
In order to ease user anxiety over leaking personal data, more effort to improving implementation and oversight of resetting or complete data erasure/destruction at specialty and retail stores (i.e. drilling a hole through the handset keyboard) will be key factors in encouraging users to feel more comfortable taking their handsets they no longer use to MRN-participating retailers.
(4) 3R measures
9 domestic manufacturers, who are CIAJ members, conducted a FY2014 environmental assessment of mobile phones and PHS devices from February through March. With the increasing popularity of smartphones, manufacturers are designing the devices to be slimmer and lighter as well as enhancing their features. They are simultaneously complying to the "Environmental Assessment Guideline for Mobile and PHS Equipment" and actively promoting the 3Rs.
More than ever, mobile phones and PHS devices are emphasizing enhanced features and slimmer and stylish designs with the popularity of smartphones. At the same time, there is greater interest in society about the 3Rs. With the implementation of the law on the recycling of small home appliances in April, 2013, local authorities are better prepared to systematically collect small home appliances, including mobile phones and PHS devices. Manufacturers need to balance fulfillment of user needs with 3R responsibilities, and continue designing products based on environmental impact assessment.
Overseas regulations on the environment continue to evolve, exemplified by the expansion of the RoHS directive coverage in the EU, indicating the greater need for all manufacturers to increase their 3R efforts, including revisions in the "Environmental Assessment Guideline" for mobile phones, PHS devices, and data communication devices.
For details, contact
Products & Technologies Development
CIAJ
tel: 81-3-5403-9358
For more general inquiries, contact
Corporate Communications
CIAJ
tel: 81-3-5403-9351 fax: 81-3-5403-9360a