CIAJ conducted its annual study of cellular phone use and announces the release of this year's findings as follows.
This year's report continues to focus on the rapid spread of smartphones, looking into the decisive factors at the time of purchase, and their uses, while also comparing the relevant data for feature phones. The study reveals the growing penetration of smartphones in the mobile internet market.
Outline
This study has been conducted since 1998 to capture on-going changes in the domestic mobile communications market.
CIAJ mailed questionnaires to 1200 cellular phones users (100 male & 100 female users in each of the following age groups: under 20, twenties, thirties, forties, fifties, sixties) residing in the larger Tokyo and Osaka metropolitan areas from the end of March through early April of this year.
The study was conducted as a fixed-point observation in April in order to include data from the busiest sales season of the year in March.
Unique findings from this year's study are as follows.
(1) Handset Trends
<Type of terminal owned>
The 1,200 people surveyed owned a total of 1,463 terminals and their breakdown is listed in the following table. 697 respondents (58.1%) said their main-use terminal (primary choice terminal) was a feature-phone, while 456 respondents (38.0%) said it was a smartphone.
<Type of terminal owned by respondents of study>
Type of terminal owned
No. of people
No. of devices
Main-use device
Primary choice
Feature phone
729(60.8%)
746
697(58.1%)
Smartphone
465(38.8%)
467
456(38.0%)
Mobile Wi-Fi router
100(8.3%)
101
19(1.6%)
PHS
55(4.6%)
56
27(2.3%)
Tablet (with telecom subscription)
32(2.7%)
32
1(0.1%)
Tablet (with only Wi-Fi connectivity)
58(4.8%)
59
0(0.0%)
Data card
2(0.2%)
2
0(0.0%)
Total
1,441
1,463
1,200(100.0%)
<Significant jump in smartphone users>
There was a 24 point (approximately 2.6 fold) increase in the 2012 number of smartphone users over 2011, which was also a significant increase over the growth recorded in 2011 over 2010. This indicates the continuing acceleration of smartphone popularity in Japan.
<Change in Number of Smartphone Users>


(2) Purchasing Cycles
<Slightly shorter purchasing cycles>
The average use of respondents' previous model (the one before the handset currently in use) decreased by 1.2 months over last year to 33.7 months.
<Change in Duration of Ownership>

<Intent to purchase replacement of current model continues to grow>
Three out of four respondents (74.9%) said they intended to purchase replacement handsets. This is an 8.7 point increase over the previous year, and though it has shrunk from last year's growth of 31 points, it still indicates continued demand for handsets.
<Change in Intention to Purchase New Handsets>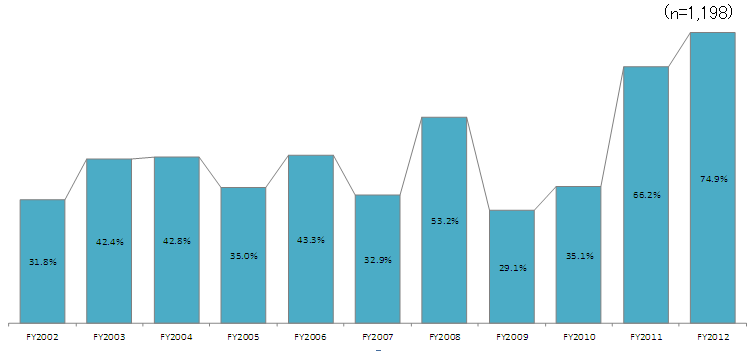 <Clear rise in interest to purchase smartphones>
92.6% of respondents who indicated intention to purchase a replacement expressed intent to purchase a smartphone as their next device. This is approximately a 26 point surge over the 2011 results. It can be presumed from these figures that the shift to smartphones will continue. However, despite the strong interest in smartphones, of the respondents who indicated intention to purchase a smartphone, 21.8% did not have a specific timeline in mind. This trend will require further monitoring over the next few years, since it can be assumed that these respondents are in a wait-and-see mode.
< Change in Intention to Purchase Smartphones>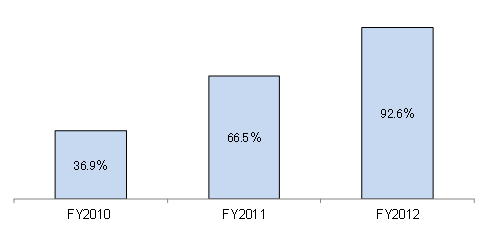 (3) Decisive Factors for New Purchases
<Clear shift towards smartphones>
The 2012 Study added new and more precise choices for answers to questions concerning decisive factors in purchasing a new handset, which impacted the ranking of the top responses. In addition, the popularity of smartphones seems to have influenced the outcome – for example, the ranking of the devices' design has gone down presumably because it is more difficult to differentiate smartphone designs, while the importance of monthly charges has increased with greater use of data traffic.
<Ratio of Decisive Factors for New Purchases>
2010(n=597)
Design 72.0%
Price 70.2%
Size (dimension, weight, thickness) 47.2%
Color 25.1%
Advanced functions  20.1%
2011(n=1,170)
Design 76.6%
Price 65.4%
Size (dimension, weight, thickness) 29.1%
Color 26.9%
Ability to add new applications after purchase 20.5%
2012 (n=1,190)
Purchase price of handset 78.4%
Monthly payment cost 74.9%
Size (snugness in one's hand) 62.9%
Mobile telecom operator 58.6%
Manufacturer/brand 56.6%
<Decisive factors in purchasing smartphones/feature phones>
The top ranking decisive factors in making the next handset purchase were cost-related for both feature phones and smartphones. Other trends are as follows:


| | |
| --- | --- |
| Smartphones: | Mainly "feature-oriented" factors, such as touch panel operability, stress-free operations, newest version of OS, CPU and OS upgrade availability after purchase. |
| Feature phones: | "Looks-oriented" factors such as color and design ranked at the top of the list. |
<Decisive factors in purchasing smartphones/feature phones>

| Ranking | Smartphones (n=465) | % |
| --- | --- | --- |
| 1 | Purchase price of handset | 77.4 |
| 2 | Monthly payment cost | 77.2 |
| 3 | Size (snugness in one's hand) | 73.3 |
| 4 | Manufacturer/brand | 71.6 |
| 5 | Touch panel operability | 67.3 |
| 6 | Stress-free operations | 63.0 |
| 7 | Newest version of OS | 62.4 |
| 8 | Mobile telecom operator | 61.9 |
| 9 | Camera function | 60.2 |
| 10 | CPU | 57.8 |
| 11 | OS upgrade availability after purchase | 57.4 |

| Ranking | Feature phones (n=737) | % |
| --- | --- | --- |
| 1 | Purchase price of handset | 77.5 |
| 2 | Monthly payment cost | 71.2 |
| 3 | Color | 60.2 |
| 4 | Size (snugness in one's hand) | 56.9 |
| 5 | Mobile telecom operator | 56.6 |
| 6 | Design | 56.0 |
| 7 | Manufacturer/brand | 46.9 |
| 8 | Battery life | 42.7 |
| 9 | Water-proof feature | 42.1 |
| 10 | Camera function | 38.4 |
| 11 | Ease of operability | 35.8 |
For details, contact
Products & Technologies Development
tel: 81-3-5403-9358 URL: http://ciaj.or.jp
For more general inquiries, contact
Corporate Communications
CIAJ
tel: 81-3-5403-9351 fax: 81-3-5403-9360