The Telecommunications Carriers Association (TCA) and CIAJ are working to improve the efficient use of materials in cellular phones and PHS terminals through the "Mobile Recycling Network (MRN)."
As part of this endeavor, TCA, with the cooperation of mobile operators providing cellular phone and PHS services, created MRN in April, 2001, which voluntarily collects used cellular and PHS terminals, battery chargers, and the batteries, mainly through the approximately 10,000 retail outlets throughout Japan, regardless of carrier or manufacturer. In the 10 years up to and including FY2010, 85.6 million devices had been collected.
Meanwhile, CIAJ established the "Environmental Assessment Guideline for Cellular and PHS Equipment," which outlines measures to reduce, re-use, and recycle. The CIAJ guideline aims to promote such activities, and encourage product assessment by manufacturers based on the guidelines.
The actual figures for recycling in FY2011 are as follows.
1. Figures for Recycling and Re-Use in FY2011
(1) Figures for Recycling
The number of cellular and PHS terminals collected in FY2011 decreased from the FY2010 figure by 380,000 terminals (-5.2%). With the popularity of smartphones, handsets were increasingly equipped with multiple advanced features and consumers began holding on to older models to be used for non-communication purposes even after switching to another model. Although the consecutive increase in collection rates from 2009 has come to a stop, the number of collected terminals in FY2011 of approximately 6.965 million slightly exceeded the figure in FY2009.
(2) Figures on Re-use
Metals used in cellular and PHS terminals include steel, aluminum, magnesium, gold, silver and copper. Gold, silver, copper and palladium are refined and re-used. The slug resulting from this refining process is used for road beds and shore-line tetrapods.
Non-metallic material (plastic, glass, etc.) are also processed for recycling. Plastics are dissolved at low temperatures into resins to be made into hangers, plastic containers, toys and other every-day goods.
(3) Voluntary Numeric Targets
Since FY2009, MRN has set several numeric targets in order to further promote recycling activities. Last year's achievements per target are listed below.
| Target Item | Target | Actual | Previous FY(reference) |
| --- | --- | --- | --- |
| (1) Awareness of recycling activities | 70% (*1) | 62.9% | 64.8% |
| (2) Material recycling rate | 70% (*2) | 96.1% | 94.7% |
| (3) Collection rate | 30% (*3) | 26.3% | 37.8% |
(*1) Assessed from a survey of user awareness and behavior.
(*2) Material recycling rate of handsets for MRN (the recycling rate of metals and other materials extracted from collected terminals).
(*3) Collection rate for all carriers.
Collection rate = "total number of devices of all carriers collected at licensed shops and other locations" / ("total number of subscribers who changed models at licensed shops and other locations" + "total number of mobile phone contract terminations")
The collection rate did not achieve the target in FY2011 and was below the figure in FY2010. This likely reflects the rapid penetration of smartphones and as seen from the survey results, despite the accompanying subscriber migration among mobile carriers, there is a strong tendency among the users to hold on to their old terminals. MRN will enhance our efforts to collect and recycle respective devices from users by increasing the number of collection points and further increasing awareness.
2. Survey on User Awareness and Behavior
As with last year, a survey of two thousand cellular phone and PHS users was conducted to gain a better understanding of circumstances surrounding recycling.
(1) The survey shows that among those who changed handset models or terminated the contract for their handset in the past year, 12.2% had returned their handsets to the retail shop.
The figure for those who had not returned their handsets includes people who held on to their handsets after changing or terminating their previous devices as well as those who didn't change or terminate the contract for their handsets during the period covered.
(2) Among those who have returned their handsets, the largest group, 71.4% turned in their most recent used handset, 24.3% turned in a handset that was two models past and 11.2% turned in a handset that was three models ago. This reflects a continuing trend of significant number of people who are turning in models that are older than the most recently used handset.
(3) The rate of people who returned their handsets to a store specializing in mobile handsets was 62.5% and those returning their devices to a large retailer were 10.4%. However, there were still 8.1% of respondents who threw away their devices as garbage. The figure for those who sold their old devices was 6.2%, or basically unchanged over the previous year.
(4) 64.1% of respondents have a handset(s) used for a purpose other than as a communication device, which is a gradual increase resulting from the advanced features that come with the handsets.
(5) Among the respondents who have a handset(s) used for a purpose other than as a communication device, the most popular use (multiple answers possible) was "kept to hold on to data (photo, e-mail, contents, etc.)" (36%), followed by "use of non-communication functions" (27%), "kept as part of a collection or for sentimental reasons (emotional attachment to the handset)" (24%), and "no specific reason, but want to keep the device" (18%). These numbers clearly indicate how the personalization of devices equipped with multiple advanced features correlates to people hanging onto their old devices to utilize important data still stored inside, or non-communication secondary functions, or for sentimental attachment.
On the other hand, 13% of respondents chose "worried about disclosing personal information" as a reason for holding on to their handsets, even after they no longer used them. 9% indicated that the reason for holding on was that they "did not know how to dispose of their handsets." More efforts to promote MRN, especially information on such measures as data transfer, proper erasure of personal data and assistance at MRN participating retailers are still necessary.
(6) Among the respondents who have a handset(s) used for no purpose, 48% stated that they would like to dispose of the most recently used handset and about 50% for even older models. This indicates there is potential for greater collection. Like the reasons for holding on to old devices, since intentions to hand over handsets for recycling would increase if data on used handsets could be transferred or personal data properly protected, new possibilities in this direction will need to be sought.
(7) Only 12% of respondents said they had seen notices from local governments concerning how to dispose of no-longer needed mobile devices, indicating that more effort needs to be made in gaining cooperation from local authorities. Of the respondents who had seen notices, 52% said they got information through a "newsletter issued by the local government," while others said they saw the information in a "waste disposal calendar" or "waste disposal manual" distributed by the local government.
(8) Awareness of the recycling of cellular phones and PHS equipment, including the logo, is decreasing, indicating the need for further efforts.
Awareness of MRN: FY2009 (65%) FY2010 (63%)
Recognition of logo: FY2009 (18%) FY2010 (19%)
(9) Since last year, smartphone users were surveyed as a distinct category. Last time, only about 10% of those surveyed were smartphone users, but this year, this ratio jumped to approximately 30%. Like last year, the numbers are for reference only, but stronger intention among smartphone users than feature phone users to hold on to their handsets not currently being used for communications became even more apparent. Taking into account that smartphone users had a relatively high awareness of MRN, this segment of mobile device users seem to have a different perspective on whether or not to dispose of old handsets. It will be necessary to monitor such new trends of these users, since the numbers are expected to grow.
3. Measures to Improve Recycling
(1) Take steps to increase awareness
As a way to increase awareness of recycling activities by MRN, efforts will continue to provide information on websites, catalogs, manuals and billing material. Emphasis on activities such as posters introducing MRN at stores specializing in mobile handsets, stickers, pamphlets/leaflets, coverage by the press as well as working with local authorities who are responsible for trash collection will continue. In order to promote collection, we will strengthen efforts to provide guidance at specialty stores when users change models or terminate their contracts.
(2) Increasing the opportunities for collection
MRN will work closely with the "Cellular Phone Recycling Promotion Council (tentative translation)" organized by the Ministry of Internal Affairs and Communications (MIC) and composed of large-volume retailers, ICT manufacturers, telecom carriers and relevant organizations, to encourage easier consumer access to recycling, conduct appropriate protection of personal information, increase collection opportunities and raise awareness.
(3) Take measures to increase collection
To increase collection rates among users who have sentimental attachments to information and data (photos, e-mail records, etc.) on their used handsets, increased support at retailers together with more information on availability of data transfer and improving the ease of backing up or transferring data stored on old models to new models will be made.
In order to ease user anxiety over leaking personal data, more effort to improving implementation and oversight of resetting or complete data erasure/destruction at specialty and retail stores (i.e. drilling a hole through the handset keyboard) will be key factors in encouraging users to feel more comfortable taking their handsets they no longer use to MRN-participating retailers.
(4) 3R measures
Make further improvements in the "Environmental Assessment Guideline for Cellular and PHS Equipment" to strengthen promotion of product designs which incorporate the spirit of the 3 Rs.
Strive to increase the recycling rate and also consider the possibilities for re-using equipment parts.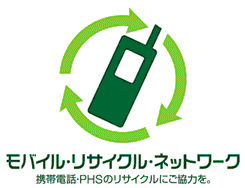 Mobile Recycling Network
URL: www.mobile-recycle.net (Japanese)
For details, contact
Products & Technologies Development
tel: 81-3-5403-9358
For more general inquiries, contact
Corporate Communications
CIAJ
tel: 81-3-5403-9351 fax: 81-3-5403-9360