Highlights >> Click

Because of decreasing demand from a slow economy and the further shift to overseas production the domestic production of telecom equipment figure became 740.9 billion yen.
Both import and export figures increased over the previous year, …

Wireless Japan News >> Click

Mobile industry news from Wireless Watch Japan operated by Mobikyo

Statistics >> Click

Japan's Telecommunications Equipment Statistics Production/Imports/Exports
Highlights
As of October, 2016
1. 2015 Market
Because of decreasing demand from a slow economy and the further shift to overseas production the domestic production of telecom equipment figure became 740.9 billion yen.
Both import and export figures increased over the previous year, reflecting the continuing trend to export parts to China and importing the finished product, mainly mobile phones. Total exports grew by 14.7% to 563.8 billion yen, recording the third consecutive two-digit growth, while imports grew by only 0.8% over FY2014 to 2.725 trillion yen, showing a deceleration.
2. CIAJ Mid-Term Demand Forecast for Telecommunication Equipment (2015-2020)
CIAJ released the "FY2015 – FY2020 Mid-Term Demand Forecast for Telecommunication Equipment" in December, 2015.
Initial round of investment towards LTE-readiness in mobile communication devices, which make up
two-thirds of the total telecom equipment market, and telecom network facilities will have completed in FY2016 and rely mostly on replacement demand, leading to a negative growth forecast through FY2017.
From FY2018 onwards, devices taking advantage of 5G mobile communication technology will become popular, with demand for digital transmission equipment to deal with the surge in data traffic from IoT and big data as well as demand for fixed telecommunication equipment to be put in place as part of satellite launch plans are forecast to nudge demand towards positive growth.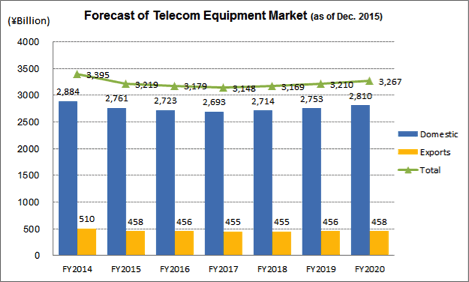 Wireless Watch Japan Mobile News
Statistics
Japan's Telecommunications Equipment Statistics Production/Imports/Exports